Pleasant Mount Emergency Services is an all-volunteer organization providing fire fighting and ambulance services for the residents of Pleasant Mount, PA and surrounding areas.
Chief Don & Captain Mike introduce Firefighters to Watson's Day Care youngsters: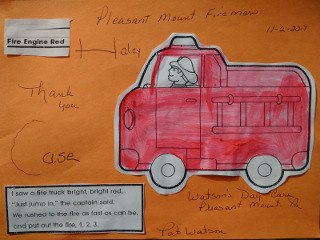 (Click the image to expand to a larger window.)
PMES Contact Information:

In emergencies dial 911
For routine calls: (570) 448-2963

Mailing Address:
Pleasant Mount Emergency Services
161 Great Bend Tpke
Pleasant Mount, PA 18453 Donations
All donations to Pleasant Mount Emergency Services are accepted by mailing donation to address above or securely through PayPal at link below. Thank you for your support! PMES28

(As a PayPal listed Charity, when you donate through the

PayPal Giving Fund here

, 100% of your donation goes to this nonprofit.)
Please do NOT check the box "Make this an anonymous donation", or we won't be able to recognize and thank you.
Smart911 - Are you prepared? Smart911.comTM A free service - Provided by your community. Private and secure - You control your information. Saves time in an emergency - When seconds count.

Susquehanna County 911, under the direction of the Department of Public Safety, is proud to announce the release of the Smart911 program to our Emergency Responders. This program will give the residents of our county the ability to provide life-saving information to our Dispatchers which can be extremely beneficial in assisting both you, the caller, and all of our Emergency Services. Currently this additional information would not be readily available otherwise and can include information on children, pets, elderly family members, details unique to your residence, and other medically important information. All information is voluntary and provided by the resident and secured to 911 emergency calls only.
(More details on our News page.)

Be aware of the Steer Clear Law


The 'Steer Clear' law requires drivers to move over or slow down when they encounter an emergency scene, traffic stop or disabled vehicle.
(More details on our News page.)

PMES Volunteers responded to:


97 Fire/Accident/Rescue Service calls in 2016!
158 Ambulance Service calls in 2016!
Interested in how you can volunteer with PMES?
Learn more here...