PMES Awards at
Northern Wayne Fire Co.
: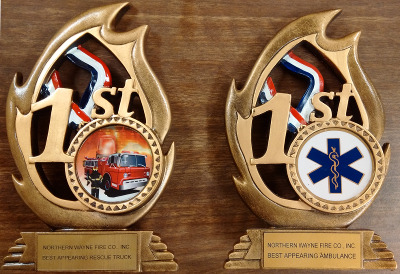 (Click the image to expand to a larger window.)
Best Appearing Rescue Truck, Best Appearing Ambulance
PMES Contact Information:

In emergencies dial 911
For routine calls: (570) 448-2963

Mailing Address:
Pleasant Mount Emergency Services
161 Great Bend Tpke
Pleasant Mount, PA 18453 Donations
All donations to Pleasant Mount Emergency Services are accepted by mailing donation to address above or securely through PayPal at link below. Thank you for your support! PMES28

(As a PayPal listed Charity, when you donate through the

PayPal Giving Fund here

, 100% of your donation goes to this nonprofit.)
Please do NOT check the box "Make this an anonymous donation", or we won't be able to recognize and thank you.

Check back right here during November to see if your number wins!
Pleasant Mount Emergency Services is an all-volunteer organization providing fire fighting and ambulance services for the residents of Pleasant Mount, PA and surrounding areas.
Steer Clear
' law requires drivers to move over or slow down when they encounter an emergency scene, traffic stop or disabled vehicle. (
More details on our News page
.)